"How To Start And Operate A Successful Home-based or Mobile Hairdressing Business"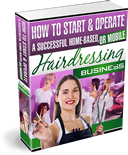 This guide covers nearly everything you need to know about getting up and started in your own home-based and/or mobile hairdressing business.

You'll discover all types of exciting tips. From how to start on a shoestring budget … to taking care of money issues … to attracting all the clients you can handle … to running a successful business and more.
Here's just a quick summary of what you'll learn inside:
How to start and operate a successful home-based or mobile hairdressing business.

An awesome secret that enabled me to increase my income by a nice 260%! (p.13)

The 7 critical factors to maximise your chances of running a successful home-based/mobile hairdressing business (p.17)

Money Matters

– how to roll out on a small budget

(p.23)

18 tools of the trade you absolutely need to have if you want to look like a professional hairdresser ... even though you work from home (p.27)

How to buy hairdressing accessories, supplies and equipment at dirt-cheap prices

(p. 29)

3 expert tips to help you get the most life out of your scissors (p.33)

How to give customers a salon experience in their home (p.36)

How to stay organised and productive (p.40)

5 tips from the trenches to help mobile hairdressers stay safe when visiting customers at home (p.46)

Are you better suited to do home-based or mobile hairdressing (p.47)

How to

price

your services (p.49)
How to make decent money without having to give your time away for free (p.50)

The best time for increasing your prices – do this wrong and lose the majority of your customers FOREVER (p.51)

9 tips to help you create business signage that brings more customers (p.53)

How to turn your car into a customer magnet! (p.54)

An amazing technique professional decorators use to turn ordinary places into sensational, eye-catching spaces – learn how to create a salon atmosphere on minimum budget (p.55)

How to turn your customer's house into a royal palace – a great tip for mobile hairdressers who want to charge

top dollar

for their services (p.56)

A powerful productivity secret to help you finish your work quicker and earn more money (p.57)

How to make LOTS of money in your business without having to pay lots in taxes (p.59)
Here's what you MUST do before you start accepting clients (p.61)

4 important tips and 7 powerful techniques to help you choose the right name for your business (p.63)

Tricky legal rules and regulations you must know about




Do you need council or county permission to work as a home-based or mobile hairdresser (p.67)

Do you need insurance (p.70)

Little known insurance traps and pitfalls you must know about (p.71)

What you must know about your TAX obligations (p.75)

How to find an accountant who will help you SAVE a TON of money (p.77)

How to run a successful business without killing your family life (p.80)

How to maximise your earnings and make your business the talk of the town (p.89)

9 fun & exciting ways to help you make lots of money as a hairdresser (p.96)

Alternative jobs for hairdressers - what to do when you start hating your job! (p.99)

Where to get CHEAP business cards that look like a million dollars! (p.102)

9 cheeky ways to help you turn your business card into a customer magnet (p.103)

15 powerful techniques to find NEW CUSTOMERS without spending a cent on expensive newspaper advertising (p.103)

How to get yourself a website without having to fork out the big bucks (p.115)

How to give clients the exact style, cut, trim, perm or colour they want (p.134)

How to deal with complaints without losing clients (p.136)

FREE helpful resources for people going into business.

And MORE!
This special guide is crammed with practical value and tips you won't find anywhere else. That's why you should grab a copy of this amazing e-book right now especially becasue you can be reading in as little as 3 minutes from now!
Starting your first business from scratch can be so much scary especially if you have never run a business before.
And even if you have run or managed a hairdressing salon in the past, you are probably still not absolutely certain what it really takes to establish yourself as a home-based or mobile hairdresser – because that's a different game altogether.
If you're serious about starting your own business then simply order my ebook - it will save you much pain and heartache and maximise your chances of success!
This priceless guide shows you the common mistakes and landmines to avoid!

Surprisingly you can be up and running in no time when you know what pitfalls, landmines and dangers you need to look out for and avoid.
That's exactly what "How To Start And Operate A Successful Home-based or Mobile Hairdressing Business" shows you how to do. You will learn how you can run a successful and professional home-based or mobile hairdressing business in the shortest time possible.
Nothing beats the satisfaction of being your own boss!

And "How To Start And Operate A Successful Home-based or Mobile Hairdressing Business" shows you how to get started in no time and on a minimum budget!
CLICK HERE TO ORDER SECURELY THROUGH CLICK BANK!
So what's a fair price to pay for this one-of-kind compendium of nearly everything you need to know to succeed as your own boss?
Look. It took me over 10 years of constant trial and error to find out what really works in this business. It took me a further 8 weeks and $1500 (not counting my own time) to document, research, organise and present this material in the most logical order to help you start immediately in this business.
So what you get is this amazing accelerated system to help catapult you to success as a home-based and/or mobile hairdresser in no time.
Of course, you can do what I did, take the long bumpy road and go through the painful school of hard knocks OR you can avoid the pain, frustration and actually maximise your chances of success by investing
just
$49.
95
$29.
I know many people are struggling with cash right now so I decided to offer you this special guide at a huge

60% OFF!

But this will only run for a limited time only.
But even the original price was just a fraction of what you would otherwise be paying to learn this stuff. You will learn from my mistakes, failures and successes.
I only wish I had access to this information when I was starting out – I'd be successful so much sooner and with much less stress.
You see, I haven't always been earning $300, $400, and $500 and more in one single day, but after 10 years of constantly looking for better ways to do business, even earning over $600 in a single day has been possible for me. Try making that working in a salon!

That's why $29 is a tiny drop in the ocean compared to how much money you could be making being your own boss. But, it's not just about making money but having a lifestyle that most hairdressers can only dream about.
Listen to this… When most people are hurrying like crazy each and every morning not to be late for work, you could be sitting in your comfy chair in your bunny slippers and pyjamas slurping hot chocolate and having the time of your life.
There is no boss telling you what to do, remember?
You can 'test-drive' this information without risking your own money…
| | |
| --- | --- |
| | |
| | |
| | |
| | "Don't Say 'Yes' Right Now, Just Say 'MAYBE' and 'Test Drive' this amazing system for a FULL 60 Days, Entirely At MY Risk" |
Hey, I know this stuff works. It's has given me the financial freedom and lifestyle that most unfortunate stuck-in-a-rut salon employees can only dream about. Still, YOU need to be convinced beyond a shadow of a doubt that it will work for you. Because that's what you're really thinking right now, isn't it? So, here's what I'm going to do if you take action immediately…
Grab a copy of "How To Start And Operate A Successful Home-based or Mobile Hairdressing Business" and go over it as much and as often as you like. I'm giving you FULL 60 DAYS to decide if you want to keep it. 60 days should be more than enough for you to find out whether this information is in fact what I say it is and IF it can really help you start and operate a successful home-based or mobile hairdressing business. And, if for whatever reason you are not ABSOLUTELY HAPPY with your investment, just shoot me an email and you will get a complete no-questions asked refund.
So really you can't lose! And, you can keep the e-book regardless. That's a pretty fair deal don't you think? It's also a bold offer. That's because I don't want to keep your money unless you are absolutely convinced that this material is right for you. And I know that when this e-book shows you how to be successful you will gladly keep it AND you will also send my your success story so I can share it with others. Deal?
But, if you're quick I will do one better for you…
In fact, if you grab a copy of "How To Start And Operate A Successful Home-based or Mobile Hairdressing Business" right now, here's what you'll also get:
ORDER TODAY... AND YOU'LL GET OVER $169 IN AMAZING BONUSES!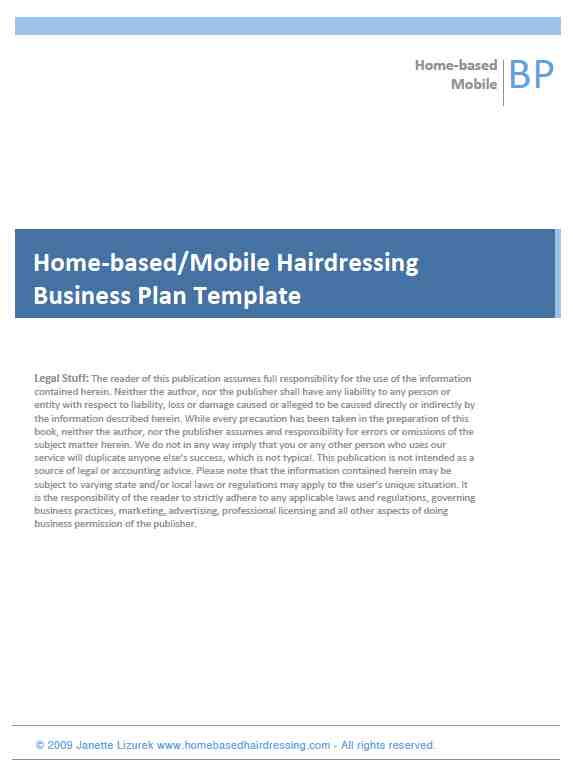 BO
NU
S #1:
Home-based/Mobile Hairdressing Business Plan Template (valued $4
9.97). You can't have a successful hairdressing business, or any other business for that matter, without a solid Business Plan. The process of p
utting a business plan together, forces you to take an objective, critical, unemotional look at your entire business proposal. But, where do you start and how do you put together a Business Plan that will maximise your chances of business success?
This amazing Bonus Business Plan Template will take you by the hand and show you exactly how to do it. It gives specific wording and information for start-up home-based/mobile hairdressing businesses. All you have to do is change a few words here and there to adapt it to your particular situation. It's fast & easy!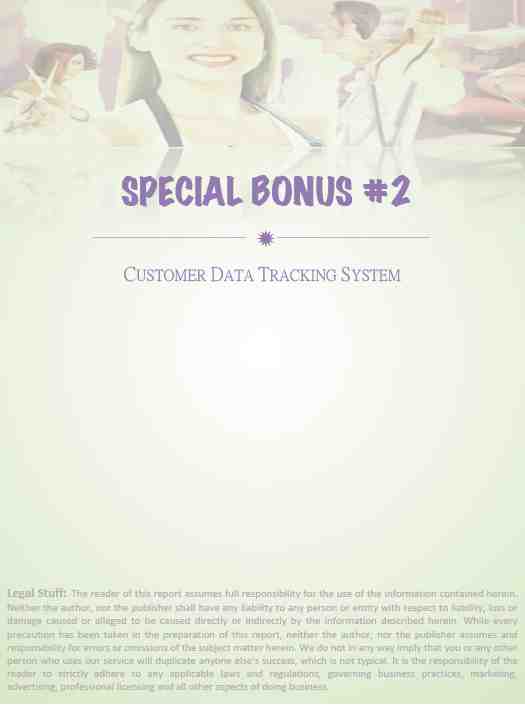 BONUS #2:
Customer Data Tracking System (valued $29.97).
If you want to start earning good money as a mobile or home-based hairdresser quickly, you need to have a RELATIONSHIP-BUILDING SYSTEM that keeps all important customer information in one place. That's exactly what this Customer Data Tracking System will help you to do. This important system will help you to:
stay organised
look professional, and
provide personalised service – the kind of service your clients will pay you TOP DOLLAR for.
Not only do I tell you exactly how to develop such a system, I actually show you the EXACT SAME SYSTEM I'm using in my business.
BONUS #3: The 5 Powerful Strategies To Help You Become More Productive, Organised & Successful In Life! (Valued $19.95). To be successful in this business you need to learn how to be more organised and manage your priorities and time well. Speaking from experience, as soon as you maximise your productivity you can dramatically increase your income. These 5 strategies come from reading countless books on business management and personal productivity. If reading is not your thing, you can get a quick summary of all the key points that will help you be more productive and successful in your new business and life without turning into a book mole.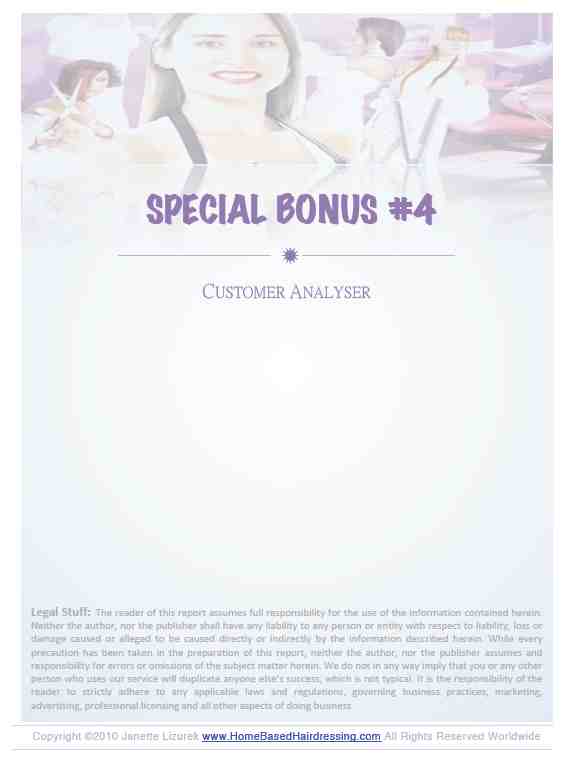 BONUS #4:
Customer Analyser (valued $29.97). This bonus is critical to helping you develop lasting relationships with your clients.
By understanding your customers better, you can make your business more attractive to both existing and new customers. Simply put, you will be able to attract more business with less effort.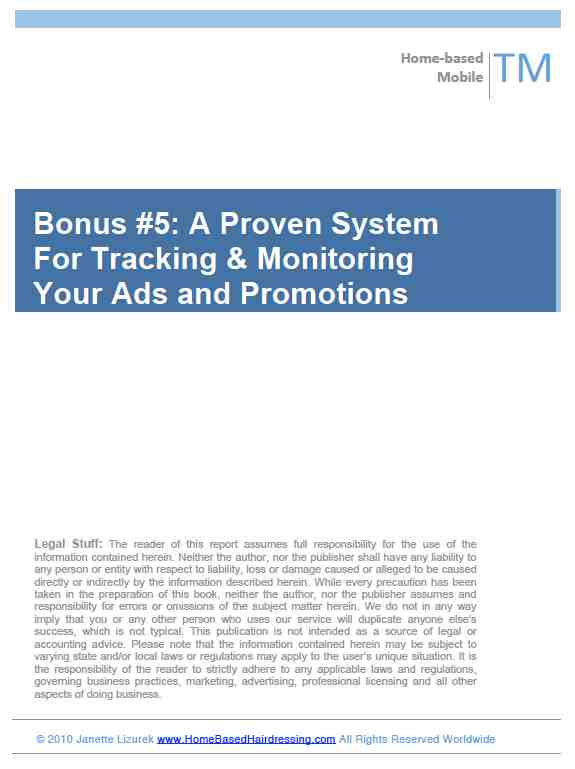 BONUS #5:
A Proven System For Tracking & Monitoring Your Ads and Promotions (valued $39.95).
This system will help you become a marketing genius fast. It will teach you how to track your promotions, and how to determine what types of offers can attract the most customers to your business. Using this simple system you will know exactly what to do and when to get more business on a shoestring budget.
Now you have to agree that's a lot of value, right? So, not only will you get my proven SYSTEM to help you start and operate a successful home-based or mobile hairdressing business, but you will also get over $169 in real bonuses to help you be successful as your own boss.
CLICK HERE TO ORDER SECURELY THROUGH CLICK BANK!
Why reinvent the wheel and put yourself through the painful and embarrassing trial and error when you can be reading what took me 10 years to learn and develop in just 3 minutes from now?
So, if you want to be your own boss, or at least find out if you are ready to take the plunge, this is the opportunity you've been waiting for. This should be an easy decision for you to make, especially since material for helping you start your business is tax deductible!
But, you must take action right now. I'm planning to raise the price soon to reflect the genuine value of everything you get with this offer.
The business plan alone retails for forty-nine dollars on another website.
Here I'm not only giving you the business plan but also nearly EVERYTHING else you need to start making money as a home-based or mobile hairdresser.
Purchase your copy TODAY & SAVE $20 OFF!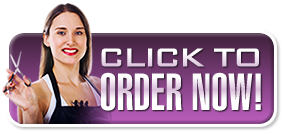 To The Success Of Your NEW Business!

Professional home & mobile hairdresser
P.S. Remember, you're getting everything to get you started in making money as a home-based and/or mobile hairdresser. PLUS… over $169 in real bonuses. With my 100% ABSOLUTELY NO-RISK GUARANTEE you simply can't lose.
I'll also throw in an extra SURPRISE BONUS REPORT IF you take action immediately. It's a special no-fluff 5-page report where I reveal one of my best-kept secrets for keeping clients coming back year after year. This is PRICELESS and you can have it as long as you
order right now!
"I was worried about buying over the Internet and not getting anything. Very happy with it, but nearly needed to print it all in the end anyways. To make and write down things...Love it really helpful but some Internet links are not accurate anymore. I would recommend it to colleges if the would be a reward system." Martina Ploetz, New South Wales, Australia